Christmas Club Account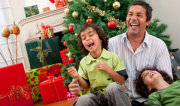 Keep Christmas happy-go-lucky, as it should be, by keeping financial stress out of the equation. A Christmas Club Account provides the ability to set aside year-round, rather than scramble last minute to cover your Christmas list.
There's no monthly service fee or minimum balance requirements, just competitive interest to be made. Then come October, you'll receive your proactive savings plus interest with plenty of time to beat the shopping rush.
Summary

Set aside little by little, year-round for the upcoming holiday season
Competitive interest on entire balance
No monthly service fee
No minimum balance requirements
Set up direct deposit to work toward your goal automatically
Deposits can be made in any amount and timeframe you're comfortable with
Avoid holiday-induced financial stress
Funds available by check in October, giving you plenty of time to shop early
Early withdrawal will result in penalty*
Free online banking
Free eStatements
No minimum deposit to open

*Withdrawing early will result in a loss of the interest accrued throughout that quarter.